Zombie Walk Turns to Second Year in Scotland
By Jayita, Gaea News Network
Tuesday, November 2, 2010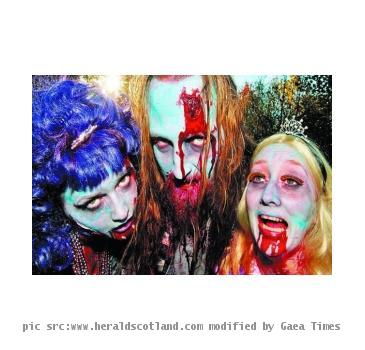 more images
Yesterday, Glasgow's Kelvingrove Park witnessed more than 1500 zombies thronging for a mass Halloween walk.
Soaked in blood and with gory guts hanging out, the zombies were trying to break through the gate of the park. They were chanting, moaning and groaning as they came for the second Glasgow Zombie Walk.
The first Zombie event occurred in Scotland last year. Almost 400 people took part in the walk, which was witnessed by people lining up beside the road.
In the gruesome parade Zombies were gnawing at hands, some had axes lodged in their heads.
Self-proclaimed Zombie King and event founder Colin Armstrong was delighted with the success of the event. He said it is now becoming a Halloween tradition for the city.
Mr Armstrong said: "We started off last year with just 400 people and we reckon more than 1500 people joined us this year.