Man Changes Name from 'Smith' to 'Captain Awesome'!!
By Turjo, Gaea News Network
Thursday, December 9, 2010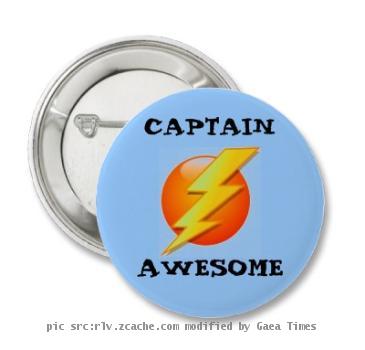 more images
EUGENE, OREGON (GaeaTimes.com) — We have all heard of those people who are not satisfied with their name given by their parents. Later on, some of them even adopt a new name which they think are better. But when an Oregon man named Douglas Allen Smith Jr. decided to change his name, he did it in an 'Awesome' way.
Last month Douglas has changed his name from Douglas Smith to 'Captain Awesome' because he was inspired by the nickname of a character on the NBC television show "Chuck" - Dr. Devon "Captain Awesome" Woodcomb. The unemployed Eugene cabinet installer said that he found it funny how Woodcomb's father gave him that nickname because a "poor nickname builds good character."
When Captain Awesome, (formerly knows as Mr. Smith) went to the County Judge, the judge raised an eyebrow over the issue. He only allowed Mr. Smith to become Captain Awesome after making him swear that he wasn't changing his name for fraudulent reasons. As an extra favor, that judge also allowed him to sign his name as a right arrow, a smiley face and a left arrow. But his bank was not ready to accept his awesom-ness as his signature could easily be forged. So, when it comes to money, our Captain Awesome is still Mr. Smith.
What do you say? Are you interested in getting some 'Awesome-ness' behind your name? What will happen if everybody starts adopting such weird titles? Think about it!