Tree Man Appears Almost Cured
By Tias, Gaea News Network
Friday, October 8, 2010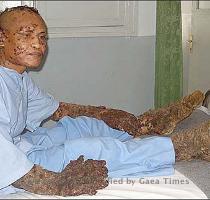 JAKARTA, INDONESIA (GaeaTimes.com)- Dede Koswara, the villager from Indonesia who came to be known as the 'Tree Man' for his strange disease has appeared almost cured of the deformities in a recent photo. Reports indicate that Dede Koswara has undergone 9 months of treatment for the condition that doctors determined were a result of the Human Pappiloma Virus (HPV). In the recent pictures he is seen trying to write with his fingers and his face too appears almost cured.
The case of the 'Tree Man' got huge media highlight and gradually received international attention. In spite of Dede Koswara being termed as a freak, and the local doctors failing to understand the disease that had him growing branches from his hands and feet, Dede Koswara received sympathies of those who watched his plight.
The condition of the Dede Koswara caused his hands and feet to grow like branches of trees. The condition developed when he cut his knee at the age of 15. In an online video the life of the 'Tree Man' was shown to be a difficult one. He also has two children and is unable to provide for them as he was unable to move around much. People all over the world called him the incarnation of Ent, the legendary creature which has featured in RR Tolkien 'Middle Earth'. People all over the world have been scrambling to get his latest photos that show that he has been almost cured of the strange disease. Doctors say that gradually he will be able to do things that he was unable to do before, which includes using the cellphone and drinking with his own hands.