Indonesian Tree Man is on the Hot News Today. Why?
By Mayuri, Gaea News Network
Saturday, October 9, 2010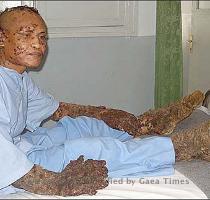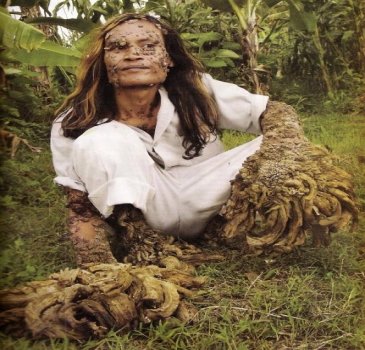 LOS ANGELES (GaeaTimes.com) — Many of you may be unaware of the fact that a Tree Man resides in Indonesia. This half tree half man name is Dede Koswara who is 34 year old now. He is rumored to be cast in J.R.R Tolkien sequel.
The Tree Man was not a tree man during his childhood. Like all of us he has been bestowed with a normal life. But destiny had something else stored for him. During his childhood he met with an accident that changed his life forever. He developed an unconventional disease from the injury occurred during the accident that later transformed into warts. The warts grew like bark like structure all over his skin and he became the world's Tree Man.
With the passage of days his misery began when Dede was unable to carry on his fishing due to the abnormal growth of warts all over his body. His wife isolated him and he was left with his children. To earn his living and feed his children he was compelled to join the circus.
Doctors said that his disease is a rare condition of the skin caused by a virus called HPV (Human Papilloma Virus), and a genetic deficit would not allow his body to fight off the infection. The Tree Man was exposed to the world in the year 2007 when he was featured on TV channels like the Discovery Channel, TLC and an ABC's Medical Mystery episode titled "Tree Man".
Now Dede is suddenly a hot topic of search on the internet. He is compared to the iconic "Tree Ents" featured in J.R.R Tolkien's 'Lord of the Rings' series. I don't know whether this rumor is true or not. But I can say one thing all these rumors proved advantageous to him. The Tree Man is getting attention that have helped him to receive medical aid. He has been under medical treatment for nine months. Now he is better and 95% of his warts are removed. But the deadly warts will come again and he will need more surgeries as this disease has no cure as such.