Dead Birds Dropping In Louisiana
By Reema, Gaea News Network
Wednesday, January 5, 2011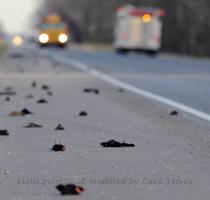 more images
LABARRE (GaeaTimes.com)- After Arkansas, it was time for the poor birds of Louisiana, to follow the same fate. According to the reports, more than 500 dead birds fell from the sky, and were found scattered all over the quarter-mile stretch of Point Coupee Parish Highway.
The incident occurred on Monday, and the Louisiana state biologists are not being able to determine the reason behind these strange spate of events. A week back, even the birds of Beebe region of Arkansas underwent the same fate. The two main species of birds, that fell from the Louisiana sky are, starlings and red-winged blackbirds. Some of them were also brown-headed cowbirds and grackles. Most of these dead birds were found lying on the Louisiana Highway 1, mainly in the Labarre region. Spokesperson for the Louisiana Department of Wildlife and Fisheries, Bo Boehringer, said that they have sent some of these birds for testing, at laboratories in Georgia and Wisconsin, for deriving a "toxicology reports", as they were rather inclusive about what preceded their death. the local people from the region said that it was difficult for them to travel in the road, as they "stumbled" upon their bodies, that were lying all over. To make matter worse, some of these people were also hit by these birds, as they were falling dead from the sky.
Louisiana's state wildlife veterinarians reported that, some of the 'estimated' 450 birds, might have got struck by the power line, which eventually took their life. Sources have reported that some of these dead birds were found with broken beaks and backs. Bo Boehringer said that he and his team has not been able to come to any conclusion yet. However, Greg Butcher, director of Audubon Society's bird conservation said that 'mass birds die-offs', can be a result of starvation, disease, pesticide, storms, collision with man-made structures or disturbance. These birds in Louisiana, lost their lives due to certain "disturbance and disorientation".
Filed under:
Featured Article
Tags:
Arkansas
,
Audubon Society
,
Bo Boehringer
,
dead birds
,
Greg Butcher
,
Labarre
,
Labarre region
,
Louisiana
,
Louisiana Department of Wildlife and Fisheries
,
Louisiana Highway 1
,
Point Coupee Parish Highway
,
United States