Bugatti Veyron Driver Goes Crazy
By Arnab Ghosh, Gaea News Network
Friday, February 4, 2011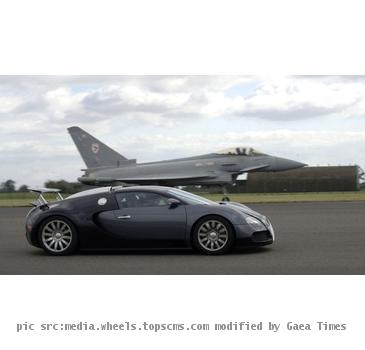 more images
BERLIN, GERMANY (GaeaTimes.com)- Owning a powerful Sport sedan or SUV is something and getting the chance to drive the car at its maximum speed are two different things. On most of the roads and motorways hitting the maximum sped limit of a car may not be possible. However, if some one lives in Germany and owns a super car like the mighty Bugatti Veyron this may not be too difficult. The Autobahn, known as the motorway network which allows driving cars at top speeds with little restrictions is favored by the speed lovers. One unidentified German driver who owns a Veyron did not feel afraid to try the speed limit of the monstrously powerful car on Autobahn. He drove the car at an incredible speed of 353 km per hour. The large part of the Autobahn network has no speed restriction, but even on this motorway hitting such an insane speed is risky. What seems more dangerous is the fact that the driver was driving with one hand and was capturing his speed chase with a cellphone that was in his other hand!
Nowadays a number of slow drivers and heavy trucks makes driving super fast on the Autobahn a little difficult for others. To get rid of this problem, the driver of the Bugatti Veyron attached mock police flashlights on the top of the car. This served the purpose and others made way for him. The super car draws its power from a beefy 1,000 horsepower engine and on suitable roads it can exceed 400 km/h.
The video of the driver racing past the Autobahn in his Bugatti Veyron has been posed online. It makes a really interesting watch.